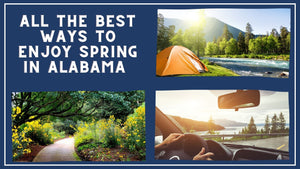 All the Best Ways to Enjoy Spring in Alabama
Springtime is Finally Here!
It is officially spring!! Now that what seems like the longest winter ever has finally passed, Alabama residents and tourists alike can enjoy all the incredible activities and beautiful spring weather that Alabama has to offer. 
However, deciding just what to do isn't easy. With so many options and so little time, you might be feeling overwhelmed trying to plan your spring adventures.
That's where this article comes in handy! Whether you enjoy staying active, relaxing in the sun or trying something new, there's plenty of options throughout the entire state for everyone to enjoy this season. Listed below are our top suggestions!
Take a Road Trip
We personally think road tripping around our great state is one of the best ways to experience the wide variety of fun activities available in Alabama. Sweet Home Alabama magazine has outlined 20+ amazing road trips ideas in the state, which you can check out here! But here's our top choices!
Get Out In Nature
From the mountains the beaches, Alabama's great outdoors does not disappoint! Here's a list of our top outdoor activities: 
Go Camping: Now is the perfect time to go camping! The bugs are not in full force yet and the nights are still a little chilly, perfect for sleeping. There are so many options for camping in Alabama, but our favorite locations would have to be Oak Mountain State Park, DeSoto State Park, Cheaha State Park and Dismals Canyon! Don't forget your GO-KOT!
Go hiking: Alabama has all kinds of beautiful trails you can hike this time of year. Whether you're hoping to see waterfalls, gorgeous views or local wildlife, spending some time on an Alabama trail is the perfect way to get in some springtime fun. Not sure what trail to try out? Take a look at this list.
Go Kayaking: Believe it or not, Alabama is an amazing kayaking destination. "You can paddle for 200 days in a row," says Adam Goshen, a Class V paddler who moved to Alabama from Virginia for work in 2003 and stayed, in part, because of the paddling. REI outlined the six rivers and lakes perfect for every paddler in this article, so check it out for information!
Enjoy City and Town Life
Alabama really does have something for everyone to enjoy. So if nature and the great outdoors is not your thing, we won't hold that against you... we promise! In fact, we enjoy everything on the list below:
Visit Our Cities: There is so much history, culture, stunning architecture and delicious food to be enjoyed in Alabama's cities! Be sure to add Mobile, Birmingham and Huntsville to your list this spring!
Farmers Markets: Spring means that the farmers markets are open again! Many areas have local farmers markets every Saturday and they are packed with fruits, veggies, cheeses, plants, baked goodies and more during this time of year. For serious farmers market lovers, find out more about the state's farmers markets but checking out this

guide to Alabama's Best Farmers Markets.

Attractions: The attraction list for Alabama is endless. We don't even know where to begin! Some must visits for our family would include the

 

U.S. Space & Rocket Center and Botanical Gardens in Huntsville, the Alabama Safari Park in Montgomery, and the Birmingham Zoo.
Events and Festivals: Alabama always has events and festivals going on! While COVID-19 has canceled most of them over the past year, things are slowly beginning to return to normal. Most events and festivals have COVID-19 guidelines and restrictions in place to make them safer, so check out what's happen in your area this spring! If you are open to traveling, you can look at this calendar to see what events and festivals are happening all over the state! 
However you choose to spend your spring in Alabama, we hope you enjoy it to the fullest!
---