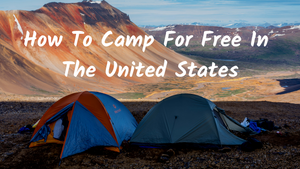 Camping For Free In The United States
Free Camping?
Yes, it is true! There is such a thing as free camping and there are way more free camping opportunities in the United States than you might think. At these campsites, you will be dispersed camping, which means you will be without the amenities of established campgrounds. So, you need to come fully prepared and carry in (and out) everything you might need. 
The trade off for lack of amenities is more privacy, more adventure, and typically more incredible views!
Where Can You Camp For Free?
Bureau of Land Management (BLM)
BLM Land, while mostly out west, is public land that offers visitors a wide variety of outdoor adventures, including camping! While their website doesn't clearly state where you can camp for free, you can start by looking through their regional maps. 
National Forests and Grasslands
There are 154 National Forests and 20 National Grasslands in the United States, that's 193 million acres of vast, scenic beauty just waiting for you to discover.  National Forests and Grasslands really make great dispersed camping options! Just be sure to check The U.S. Forest Service's "Know Before You Go" camping section before planning your trip so that you can be fully prepared.
Other Options
Did you know that many businesses will allow you to stay overnight in their parking lots? While it might not be the most luxurious destination, after a long day of traveling, it may just be the easy, convenient, and free option you need! This is especially true for those with an RV.
Wal-Mart is the most well known store that allows you to camp overnight, but there are plenty more! Places such as Cabela's, Camping World, Cracker Barrel, and even Costco, Home Depot or Lowe's, and some Casinos allow overnight camping. Every store is different, though, so don't just assume you can stay overnight. The best thing to do is call ahead of time and just ask. When in doubt, Walmart is always your best bet!
When traveling through small towns, you may want to check and see if they allow free or low cost camping in their fairgrounds or parks. If all else fails, rest stops are also an option!
Photo by RV Hive, Boondocking in the Targhee National Forest.
Finding Free Camping Spots
There are numerous resources out there that can help you find the perfect, free camping spot for your trip. You just have to do a little research! We always start by doing a few Google and YouTube searches, and of course check the BLM and USFS websites. From there, we have several additional recommendations. 
1. Allstays: Camp & Rv
Allstays Camp & RV- Tents to RV Parks is by far the best tool for finding the best camping spots. This is what we use and we haven't been disappointed! It is an easy to use app that lets you find and filter places and services with or without internet. It has extensive filters, so you can specify whether you are looking for tents, RV resorts, parking lots, fuel, rest areas, repairs, tunnels, or even inclines. It also allows you to find campgrounds with full amenities as well as the free, off the beaten path campsites. This app does cost $9.99, but it is well worth the money! This is in no way an advertisement, this is just what we prefer using and find it to be the most helpful. 
 2. FreeCampsites.net
This is our favorite free option so far. FreeCampsites.net is a very helpful resource whether you just want to find free campsites nearby, or if you are planning an entire free camping road trip! Another reason we like this resource is because it is community driven. While they update the map and add free campsites themselves, they also encourage users to add the free camping destinations they have personally tried.
Final Note
Before going out on your camping adventure, make sure you do all your research. Find out of there is cell service so you can plan accordingly and let loved ones know where you are. Regardless, it is always a good idea to have a compass and a map just in case. You also want to check to see if there are any alerts or hazardous conditions in the area you plan on camping in, as well as any restrictions you need to be aware of. 
Lastly, please practice good outdoor ethics and follow the Leave No Trace guidelines! 
Photo by Forest Service Alaska Region, Chugach National Forest, USFS.
---