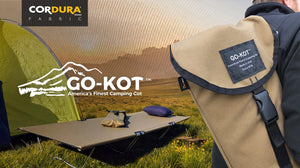 Celebrating 40 Years

40 Years of Quality 
Since 1978, the GO-KOT® has been handmade right here in the USA. We source the best American raw materials available, to include: 1000-denier water-repellent nylon fabric cover & bag, thick aluminum side poles, galvanized spring steel legs, and high-impact hinges. Quality materials combined with quality craftsmanship results in a quality product that is built to last a lifetime!
A Good Night's Sleep
As US Veterans, we understand the role a good night's sleep plays in one's ability to take on the challenges each day brings. That is why we take pride in being the cot of choice for military and first responders. Our lightweight, durable and comfortable design is also perfect for outdoor professionals and adventure enthusiasts alike! No matter what your day might include, getting a good night's sleep off the damp ground will ensure you are ready to take on anything!
Why Invest in a GO-KOT®?
The GO-KOT® is built to last. We have customers contacting us who still have their GO-KOT® from 40 years ago! So, once you have one, you are set! However, we are pretty sure you will want more than one because the GO-KOT® can be used for more than just your typical camping weekend! You can take it backpacking, motor camping, motorcycle camping, horseback riding, kayaking, canoeing, bicycling, hunting or on scouting expeditions! It even makes a great bed for when you have extra guests or when the kids have sleepovers. The possibilities are really endless!
The Future of 

GO-KOT®
Currently, we are working on designing a GO-KOT® for pets! The K9-KOT® will come in three different sizes so every pet will be as comfortable as possible. Stay tuned for more details and a release date!
---