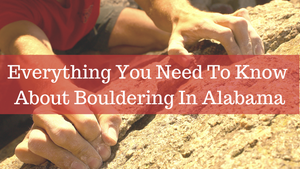 Everything You Need To Know About Bouldering in Alabama
Bouldering in Alabama
 Alabama might not be the first place you think of when it comes to bouldering, but according to Roots Rated, Alabama actually has some of the best bouldering spots in the country. Alabama is conveniently located at the end of the southern Appalachian Mountains, which creates unique bouldering opportunities for both beginners and experts. Read on to learn more!
Our Top 5 Bouldering Spots
1. Horse Pens 40
Located in the northwest near Steele, Alabama, Horse Pens 40 is the number one choice for bouldering in the state! Climbers from all over the world come here for this boulder field's 200+ high quality sandstone boulder problems. When you combine that with excellent landings and a mature canopy of hardwood trees, it is clear why Horse Pens 40 has been called one of the best bouldering experiences in the world!
2. Hospital Boulders
Hospital Boulders is located just north of Gadsden, Alabama. Owned by the Southeastern Climbers Coalition, this site offers 200+ high quality sandstone boulder problems. You will need to fill out a form here, to get the gate code to access this site. Please remember to lock the gate behind you!
3. Moss Rock Preserve
Another very popular bouldering spot in Alabama, Moss Rock Preserve it located in Hoover, Alabama. There are 50 uniquely diverse sandstone boulder problems to keep you busy for hours. Formerly known as "Shades Crest Boulders," this site was saved from development thanks to the efforts of local climbers and advocacy groups. Now it is now a designated city park and will remain protected for climbers and nature enthusiasts alike to enjoy for years to come. 
4. Cherokee Rock Village
Located in Centre, Alabama above beautiful Weiss Lake, Cherokee Rock Village offers bouldering as well as a variety of sport climbing and traditional climbing. There are about 10 bouldering routes, ranging from beginner to advanced. Cherokee Rock Village also has great tent and RV camping opportunities, so you can make a whole weekend out of climbing here!
5. Trussville Boulders
The Trussville Boulders can be found at the Trussville Sports Complex in Trussville, Alabama. The Access Fund and Southeastern Climbing Coalition worked with the City of Trussville to open this small bouldering park with about 5-6 large boulders and 20+ problems. You are encouraged to bring some brushes and clean off some new problems during your visit! 
Photo by Steven Sloan, Flickr - taken at Horse Pens 40
The Best Indoor Bouldering 
There are several places in Alabama you can go to practice bouldering indoors, however, we are only going to recommend our favorite!
Located near Red Mountain Park, Birmingham Boulders is largest (and in our opinion the best) bouldering gym east of the Mississippi! This 14,000 square foot facility features the newest generation of walls from Vertical Solutions and so many training opportunities. You can purchase day passes or a membership on their website!
Photo from Birmingham Boulders
 Southeastern Climbers Coalition 
The Southeastern Climbers Coalition is a 501(c)(3) non-profit organization dedicated to preserving climbing areas in the southeast for future generations. SCC members and volunteers are climbers from Tennessee, Alabama, Georgia, North Carolina, South Carolina, Florida, Arkansas and elsewhere who have joined forces to preserve access to climbing areas in the region.
If you are passionate about climbing, this is an organization you definitely want to check out! Their website has a numerous helpful resources, including a list of climbing destinations in Alabama, Georgia, and Tennessee. You can also join to become a member or donate to help protect these climbing areas we all love!
---