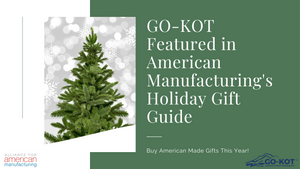 GO-KOT Featured in American Manufacturing's Gift Guide
What Is The Alliance for American Manufacturing?
The Alliance for American Manufacturing (AAM) was founded in 2007 by leading domestic manufacturers and the United Steelworkers, North America's largest industrial union. They have one simple mission: strengthen American manufacturing through smart public policies! They are dedicated to highlighting the importance of supporting "American Made" products and why we should "Keep it Made in America!"
This organization also conducts research to reveal how American's feel about products made in America. Some highlights from their research includes:
95% of Americans have a favorable view of U.S. made products. 
80% of American voters support Buy America policies for government procurement. 
Since 2000, 5.1 million American factory jobs have been lost as a result of less products being made in America. 
Made in America Holiday Gift Guide
Every year, the Alliance for American Manufacturing puts together their list of American made gift picks from all 50 states. They have several goals for this gift guide, including to make things a little bit easier for shoppers, shine a much-deserved spotlight on the companies who make their products locally, and most of all to help support American jobs and communities. This year, GO-KOT is honored to be the featured American made product from Alabama! 
If you are interested in buying American made gifts for your friends and family, click here to view the gift guide! There really is something for everyone. The Alliance for American Manufacturing aims to include a wide range of different items, both in terms of what they are and in price, so we are sure you won't be disappointed!
The Podcast!
GO-KOT was not only featured in the Holiday Gift Guide, but we were also invited to participate in American Manufacturing's podcast: "Unwrapping the 2019 Made in America Holiday Gift Guide with a Peek into the Process!" It is a very entertaining, informative and fun podcast to listen to in the car, while you cook dinner, or just while you are hanging out around the house. We highly recommend a listen before doing your holiday shopping!
And, of course, be sure to tune into minute 15:10 to hear GO-KOT's guest appearance! 
---