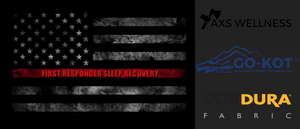 GO-KOT Has Partnered With AXS WELLNESS
About AXS WELLNESS
AXS WELLNESS is based out of Denver, Colorado and provides transformative health and wellness programs and educational workshops for fire departments, police officers, EMS, air medics, and other professionals in the first responder community. Their mission is to deliver new pathways of access to mind-body wellness for sectors of the public that would not have otherwise experienced it.  
Founder Jacqueline Toomey is personally and wholeheartedly invested in purposefully bringing new experiences of wellness to public servants with firm hopes that the unique AXS WELLNESS approach can benefit everyone, regardless of background, career,  beliefs or lifestyle.
The First Responder Sleep Recovery Program™
Research has proven that at least 7 hours of quality sleep each night is necessary for overall wellbeing. Both the mind and the body need quality sleep to recover and function properly. Unfortunately, our first responders are not getting the sleep they need and it is having detrimental effects. 
Sleep deprivation can have a variety of negative effects including impaired mental and physical performance, accidents and injuries, increased blood pressure, strokes, and even heart attacks. Experiencing sleep deprivation for just 1 week has been proven to lead to cognitive impairment, which makes first responder duties all the more dangerous. 
In addition, research shows that first responders suffering from sleep deprivation are also at higher risk for: 
Obesity
Diabetes and impaired glucose tolerance
Cardiovascular disease and hypertension
Anxiety symptoms
Depressed mood
Alcohol use
Suicide

 
That is where the First Responder Sleep Recovery Program™ comes in. This program helps combat sleep deprivation effects and offers proven sleep mitigation solutions.
Their dynamic training course includes sleep recovery practices that have been tailored for firefighters, police officers, EMS, air medics and dispatch professionals in the in the first responder community. These restorative and integrative methods for relaxation not only improve sleep patterns, but help to relieve stress and chronic trauma exposure. 
The GO-KOT and AXS WELLNESS Partnership
GO-KOT is honored to have partnered with AXS WELLNESS. Our GO-KOTs will be used in their First Responder Sleep Recovery Program™ and will provide a durable and comfortable place to sleep for First Responders. 
As stated by AXS WELLNESS, "The GO-KOT is surprisingly comfortable and lightweight, easy for transport. We also love that this company is mission driven!"
Our main goal is that we are able to enhance the First Responder Sleep Recovery Program™ and help first responders improve their sleep and overall wellbeing. 
We also hope to become a staple gear item for all our first responders and help improve everyone's sleep in the first responder community. For those that may not be able to return home in between shifts, the GO-KOT can provide a comfortable and reliable place to get quality rest. For those working long shifts, such as wild-land firefighters, the GO-KOT can easily and quickly be set up for 20-30 minute naps. Short naps are proven to restore alertness, enhance performance, and reduce the risk of mistakes, and more first responders may take advantage of restful breaks if they had a place to sleep. 
For more more information on the First Responder Sleep Recovery Program, click here! If you are interested in learning more about GO-KOT, please contact us at (205) 384-4134.  First responder discounts (verified by GovX ID) are always available for individual purchases on our website and we can be found on GSA Advantage for unit purchases.
---