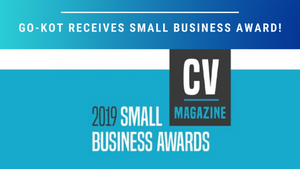 GO-KOT Receives 2019 Small Business Award
Corporate Vision - CV Magazine
Corporate Vision Magazine was created by a highly experienced and passionate team of business experts, advisors and insiders. With worldwide circulation of 130,000, CV Magazine provides discerning readers with a wealth of news, features and comments on the corporate issues of the day. 
As their website states, Corporate Vision is an invaluable resource for leaders and decision makers looking, not only to be informed, but to improve the way they manage their operations, staff, technology, business partnerships, and supply chains with a view to creating a more profitable and successful business.
2019 Small Business Awards
Corporate Vision believes that small businesses are the backbone of the corporate landscape. Despite the trying hardships and obstacles they may face along the way, small businesses' continued dedication and innovation prevail. Their success is not purely showcased through their size or number of employees but also through the benefits of a tight knit workforce, outstanding customer service and strong determination to reach their goals. 
CV Magazine created the Small Business Awards to seek out, reward and highlight only the best that this wonderfully vibrant industry has to offer. The Awards Coordinator, Jessie Wilson, believes that small businesses are necessary for an economy to be profitable, yet they are often overlooked when it comes to recognition. 
The 2019 Small Business Awards were recently released and we are honored to announce that GO-KOT made the list! We were recognized for having the most innovative camping cot and were awarded the Outdoors Supply Brand of the Year 2019!
Thank you CV Magazine for highlighting our small business and thank you to all of our customers for the continued support! Also, congratulations to all the Small Business Awards winners! To view the full list of winners, click here.
---