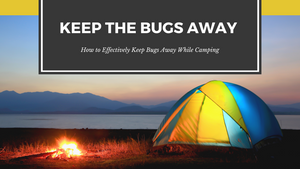 How to Effectively Keep Bugs Away While Camping
Summer is Here!
It is finally June and camping season is in full swing! There is something absolutely magical about being out in nature again, enjoying outdoor activities and late nights spent around the campfire with friends and family. 
Unfortunately, summertime is also when ALL the bugs are out. Don't let mosquitoes, ticks, flies, gnats or any other bugs ruin your camping trip though! There are ways to minimize these pesky nuisances.
Tips for Keeping Bugs Away
Listed below are the best tips from the KOA, The Geeky Camper and the Mosquito Squad on how to effectively keep bugs away during your camping trips this summer!
Gear
While still in the planning stages of your camping trip, do some research into the best gear for dealing with bugs. There are many options that can improve your camping experience! There are a wide range of mosquito nets, canopies, and shelters as well as gear that has already been treated with built-in insect repellent. Other gear investments could include bug-repelling diffusers, head nets, mosquito repelling bracelets, etc.
Clothing
Protective clothing can do wonders for preventing mosquito bites. Some clothing brands even offer clothing with built in bug repelling technology, such as No Fly Zone®,which can be found on many clothing sites including LLBean and Duluth Trading Co. In addition, you should invest in some light weight, loose-fitting shirts and pants from an outdoor outfitter, as long sleeves and pants are key. According to Mosquito Squad, light colors attract less bugs, so avoid purchasing black or other dark colored clothing for camping trips. 
Unscented Toiletries
Sometimes, floral or fruity scents can attract bugs. It is best to choose unscented deodorants, hair products, lotions and other daily hygiene products. This will help keep you under the radar from bugs and mosquitoes.
Campsite
When choosing a campsite, it's important to consider your surroundings. Bugs love standing water, so look for dry, high ground that is far from standing water. Typically, having fast moving water nearby, such as a river or creek, shouldn't cause too many bug problems. Once you have established your campsite, make sure to keep it clean. Throwing out your trash each night and properly storing your food in bear boxes or coolers can go a long way toward preventing bug infestations overnight or while you're out and about.
Campfires
As soon as you get to your campsite location, build a campfire immediately. Do make sure to check your local ordinances and ensure campfires are allowed in your area before heading out on your trip. As a general rule, mosquitoes and other bugs hate smoke. In addition, you could try putting natural herbs and plants into your campfire. It has been shown that sage, mint, eucalyptus, and rosemary are all fairly effective bug repellents. 
Repellent
Permethrin is an insect repellent designed to be applied directly to your camping gear and clothing. It can survive about 20 to 40 laundry cycles in a washing machine, too! In addition to treating your gear and clothing with this repellent, it is a good idea to also pack traditional insect repellent for you camping trips. Choose the repellent that works for you, whether it's a DEET-based product or a natural alternative. Just make sure it is waterproof! Between sweating and splashing around in the water, you don't want your protection to wash right off. 
In the end, bugs are a part of nature and can't be completely avoided while camping. However, following the above tips should greatly reduce the bugs around your campsite and provide you with a much better camping experience! 
---