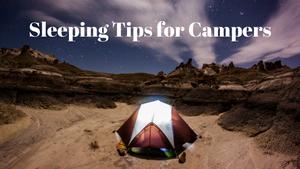 How to Get a Good Night's Sleep While Camping
Sleeping Tips For Campers
Many people's number one concern when it comes to camping is getting a good night's sleep. This is understandable, considering you need to be well rested to fully enjoy the day's adventures. You also want to come home from your camping trip feeling refreshed, not exhausted. With that in mind, here are our best sleeping tips for campers!
What To Pack
1. Bring A GO-KOT®
We are all used to our own beds and having more comfort and support at night. So when you're out camping, sleeping on the hard ground or an air mattress that slowly deflates through the night just isn't going to feel as comfortable. The best and easiest sleeping solution is to sleep on a GO-KOT®. It helps to relieve pressure on your joints and is great for both back and side sleepers. On top of being extremely comfortable, the GO-KOT® is also very durable and easy to set up. Another benefit of sleeping on the GO-KOT® is that is keeps you off the cold ground during the winter months and it allows air to circulate around the bed to keep you cool in the summer. It is also ideal to be sleeping off the ground during the rainy season. 
2. Bring a Pillow
At home, you are used to having a pillow and having support for your head and neck, which is a big part of sleeping well. If you are car camping and have plenty of room, just pack your own pillow you use very night. However, if you are backpacking or just packing light, there are numerous inflatable and compact pillow options.
3. Choose the Right Sleeping Bag
To ensure the best night's sleep possible, it is important to pack the right sleeping bag. Check the weather and choose the sleeping bag with the appropriate temperature rating. If you get old at night and have enough room, bringing extra blankets is always a good idea. If it's going to be warm at night, you may only need to bring a sheet to cover up with while sleeping on your GO-KOT.
4. Pack the Right Sleeping Clothes
Again, make sure to check the weather so you can pack accordingly! If you are camping in the spring and summer months and it won't be cold at night, pack a pair of shorts and a T-shirt to make sure you aren't too hot while trying to sleep. If you are camping during the fall and winter months, make sure to make warm clothes to sleep in including a stocking cap, wool socks, and long pants and shirts. 
 4. 

Additional Sleeping Gear

Two things many campers forget, or just don't think about until they are already out camping, are earplugs and a eye mask. Both these items help block out distractions that could keep you awake and tossing and turning. If your imagination tends to run wild with every little noise or if you don't plan on waking up early with the sun, these are even more essential!
 Daily Tips
1. Tire Yourself Out
The best thing you can do to ensure a good night's sleep while camping, is to tire yourself out during the day! It will be much easier to fall asleep after a full day of hiking, kayaking, fishing, or any other outdoor activities!
2. Keep It Organized
The first thing you do when you arrive at your campsite is typically set up and organize your campsite. After that, make sure to keep it organized. Clean up after meals, keep food stored properly, keep your sleeping space orderly, and turn down your "bed" before it gets dark. You will be surprised how much better you sleep knowing everything is in order!
3. Follow the Same Routines
Whatever you do before bed at home, try to follow that same routine as close as possible while camping. Brush your teeth, wash your face, read for awhile, anything to help you feel relaxed and ready for bed.
4. Additional Tips
It is always a good idea to visit the bathroom right before bed, so you can try to avoid late night visits. Just in case, though, place toilet paper by the tent door so you aren't looking for it in the dark. Also, if you tend to wake up needing a drink of water at home, remember to fill up your water bottle and have it next to you. 
Most importantly, relax and have fun on your camping trip!
All pictures used in this blog post are from customers who have shared their GO-KOT pictures with us on Instagram using #GOKOT. In order, credit given to those Instagram accounts are as follows: @shimoncamp @campingcot @rublove57 @kazzzz.zz  
---