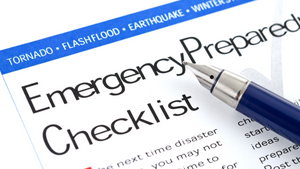 Individual Emergency Preparedness
The Importance of Preparedness
Being prepared for emergencies, natural disasters, or any other unforeseen event is essential for both you and your family's safety. To ensure you are properly prepared, follow this tips:
Have a Plan:
Ready.gov is a great resource to use when making your emergency plan. Keep in mind that your family may not be together when a disaster strikes, so decide how you will contact each other and where you will meet up if you are separated. In addition, it's important to research which types of disasters could affect your area, whether it's hurricanes, tornados, floods, earthquakes, etc. Your emergency plan should answer the follow questions:
Visit ready.gov to download and fill out a family emergency plan, or use their example to build your own!
Make an Emergency Kit:
An emergency kit provides vital items for you and your family and is incredibly important for short term survival. Make sure your emergency kit is packed and ready to go at all times, and that all family members know where it is located. When building your emergency kit, keep in mind that you may be without power, water and gas for several days. Here is a list of things to include:
Food and water for each person in the family
Medical, sanitation, and hygiene supplies
Blankets and sleeping bags
Spare batteries, flashlights, phone chargers, matches, and candles
Extra pair of protective clothing and sturdy footwear
Filled gas can
Copies of important documents, such as passports and birth certificates
Specific emergency supplies for any infants or pets in the family
Your GO-KOT(s)
The GO-KOT weighs 10 pounds and can be set up and taken down easily. It is also easy to store and transport. Therefore, it makes the perfect addition to your emergency kit. When an unplanned event occurs, you may not know where you and your family will be sleeping. Shelters can fill up quickly or run out of cots, so knowing you and your family will have a bed at night regardless of wherever the emergency takes you, is great peace of mind. 
After Hurricane Florence last year, we received this review from one of our customers:
"I bought Go-Kots for our camping trip due to them being lightweight and durable. When we used them I had the best sleep I have ever had camping. We thought it would be great on the motorcycles and maybe if we had guests over but not much else. Then Hurricane Florence happened. We stayed in our city of Wilmington, NC but went to a safer house. We have been sleeping on our cots for over a week now and sleeping great! When the power and AC came back on and Sean made it freezing, I thought I could never be warm on these. I found out that a blanket under me made it perfect. I will be happy to have my own bed back, but will always be grateful to GO-KOT for making these great cots!"
 Additional Preparedness Items
Preparing for an emergency is a lot like preparing for an outdoor adventure where you are without normal conveniences. If you suspect an emergency or natural disaster will force you to leave your home for longer than a few days, here are some additional items to consider:
Backpack, duffle bag, or lightweight suitcase. If you should have to change locations, these items will help keep you organized and more mobile.
UV Purifier, gravity or 

hand pump water purifier with extra filter, solar or stovetop distillers, or another 

way to purify water in case you run out. 
Pots, pans, portable stove, dishes, utensils, plastic bags or containers, cleaning supplies and anything else you might need when it comes to food preparation. 
In the event you will need to stay outside, add a tarp or a tent, bug spray, sunscreen, fire starters, and waterproof matches
For a very detailed list of items to consider including in your emergency kit, visit Peak Prosperity!
---