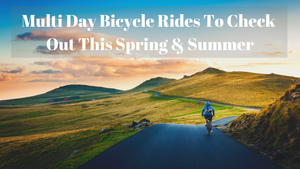 Multi Day Bicycle Rides To Check Out This Spring & Summer
Biking and Camping
Are you like us and have a passion for both biking and camping? If so, have you considered participating in a multi day bicycle ride or tour? These experiences are not only great exercise, but they also allow you to see cities, towns, national and state parks, and the country side in a whole new way.

When it comes to these multi day events, though, many people are torn about sleeping accommodations. On one hand, you want to stay outdoors and experience as much of nature's beauty as you can, but on the other hand, you want to be well rested in order to continue your bicycle journey. 

That is where the GO-KOT comes in! The GO-KOT is light weight and can be set up in a minute or less, making it convenient to add to your gear list. It also allows you to fully enjoy your camping experience and wake up feeling refreshed, so you can then fully enjoy your biking experience!

Check out our list of top bicycling rides and tours happening this spring and summer!
Photo by Greg Edwards of Cycle Washington from Adventure Cycling Association 
2019 Bicycle Events
Spring Rides and Tours
Bicycle Ride Around Arkansas (BRAA): A 250-mile self-contained bicycle loop around Arkansas that begins in Brinkley and goes to Village Creek State Park. You will also visit Louisiana Purchase Survey monument. You must be an Arkansas Bicycle Club member to participate, but it is worth it to join in on their other races throughout the years well! Dates: March 31 – April 6, 2019

Big Bend Loop: This ten-day, van-supported trip explores the wild and picturesque terrain of the West Texas Big Bend region and covers 343 miles. Presented by Adventure Cycling Association. Space is almost full, so register soon! Dates: April 6-15, 2019

Florida Bicycle Safari: The 39th Florida Bicycle Safari is a springtime cycling adventure that features six days of riding in beautiful North Florida and South Georgia. Sponsored by Florida Freewheelers bike club and based in the Live Oak area. It is limited to 250 cyclists, so register soon! Dates: April 13-18, 2019

Cycle Zydeco: Cycle Zydeco, or the festival on wheels, is a four-day casual touring ride in South Louisiana. This tour coincides with Festival International de Louisiane & the New Iberia Spanish Festival and includes great food, live music, and the finest flat roads Louisiana has to offer. Dates: April 24-28, 2019

The Cycle North Carolina Coastal Ride: This ride offers participants and their families a fun-filled 3-day weekend while both on and off the bike. Daily loop rides with various mileage options are available. Get ready to view an abundance of coastal wildlife and many historic sites that are deeply rooted to the local communities! Dates: April 26-28, 2019

BRAG Spring Tune Up: For Spring TuneUp, riders travel at their own pace along a set route which includes rest stops with refreshments. Riders get to choose to ride as many or as few miles as they like, ranging from 20 - 100 miles. At the end of each day's ride, riders camp at Sunflower Farm in Rutledge, Georgia where there will be food & drinks, hot showers, live music, and games. Dates: April 26-28, 2019

Alabama's Magnificent Bicycling Adventure: AMBA is a multi-day bicycle ride which visits historic and interesting sites around Auburn each day. Staging is at Chewacla State Park, so you only have to set up and take down camp once during the trip! Dates: May 18-24, 2019

Touring Ride in Rural Indiana (TRIRI): Loops of varying distances over three days will be offered, all from Spring Mill State Park. A single short loop will be offered on the final day, allowing time for participants to travel to Kentucky for the Horsey Hundred, if desired. This is a great event for those wanting to improve their riding and endurance. Dates: May 20-24, 2019

Ride the Fault: Cycle along parts of the New Madrid earthquake fault line through 4 states in 7 days. Experience the varying scenery and terrain of the states of Missouri, Illinois, Kentucky and Tennessee while enjoying unique history and southern hospitality. The 2019 tour starts in Cape Girardeau, MO and ends in Dyersburg, TN. Dates: June 1-7, 2019

Bicycle Ride Across Nebraska (BRAN): BRAN is a fun ride because it celebrates a different theme unique to the state every year. The 2019 bike tour is the 39th annual BRAN, raising scholarship money for Nebraska high school seniors to attend a Nebraska trade school, college or university. Dates: June 2-8, 2019

The Bicycle Ride Across Georgia (BRAG): 2019 is the 40th annual Bicycle Ride Across Georgia! This year's BRAG routes take you from the mountains to the coast and averages 55 miles a day. Dates: June 1-8, 2019

The Great Annual Bicycle Adventure Along the Wisconsin River (GRABAAWR): This 427-mile bike tour starts in Eagle River and ends at  Prairie du Chien, covering about 70 miles a day. Overnights in Rhinelander, Wausau, Wisconsin Rapids, Mauston, Baraboo and Spring Glen.  Dates: June 8-15, 2019

The Denver Post 2019 Ride the Rockies: 2019 marks the 34th Annual Ride The Rockies! This is an amazing adventure showcasing colorful Colorado on two wheels. Enjoy the challenge of over 28,000′ of climbing while you soak in the beauty of the mountain ranges and the stunning valleys.   Dates: June 8-15, 2019

Biking Across Kansas: BAK rolls out for its 45th annual cross-state bike ride in 2019. The ride follows prevailing winds, heading from west to east. Goodland to Atchison with overnights in Colby, Hill City, Hays, Wilson, Minneapolis, Clay Center, and Holton. Dates: June 8-15, 2019

Tour of Minnesota: A tour of northern Minnesota on two wheels! This year's route will head north to the Iron Range, Grand Rapids, Chisholm, Aurora, Ely, Biwabik, and Hibbing. The daily mileage will range from 40 to about 65 miles. Dates: June 14-21, 2019

The Great Ohio Bicycle Adventure (GOBA): GOBA features the "Come Sail Away" bike tour in 2019 in the area of Lake Erie. The route starts and ends in Bowling Green, with overnights in Fremont, Port Clinton, and Oregon.  Dates: June 15-22, 2019
Summer Rides and Tours
Denali Adventure Tour: This tour is a superb way to leave civilization behind and experience Alaska's stunning terrain on two wheels. Primitive campgrounds and rough roads will reward you with sweeping vistas and the untamed wilderness of the north! Dates: June 15-29, 2019

 New York Finger Lakes Wine Country Ride: Take in the heart of the Finger Lakes region of New York. Enjoy the Erie Canal Towpath Trail, wineries along the lakeshores, the rich women's rights heritage of Seneca Falls, and the extensive network of state parks with beautiful campgrounds on this adventure through this first-class bicycle touring destination. Dates: June 16-25, 2019

Bike Virginia: 2019 will be the 32nd Annual Bike Virginia Tour! This year will feature a fan favorite, Shenandoah Valley. You can choose one day, the weekend, or the full 6 day tour. Base camps will be Masanutten Military Academy in Woodstock, VA and Hillandale Park in Harrisonburg, VA. Dates: June 21-26, 2019

Pedal Across Lower Michigan: This tour uses scenic, paved roads ideal for beginning and intermediate cyclists, making it very kid friendly and ideal for families! Daily mileages range between 35 to 60 miles, with longer options for those who want the challenge. Dates: June 22-28, 2019

Bicycle Rides NW – Oregon: The 2019 bike ride through Oregon is a loop that starts/ends in Condon and overnights in Moro, Maupin, Fossil, Spring (layover) and Heppner. Depending on options, the ride covers 345 to 405 miles with 25,500 to 29,265 feet of elevation gain. Presented by Bicycle Rides Northwest. Dates: June 22-29, 2019

Cycle Washington: On this fabulous tour through the Pacific Northwest, you'll get up close and personal with some of the most scenic landscapes in Washington, from the lush forests of the Cascade Range's western flank to the arid plains of the eastern slope. Presented by Adventure Cycling Association. Dates: June 22- 29, 2019 

Washington Cascades: This tour takes in Mount Rainier National Park, Mount St. Helens, Lake Chelan, and North Cascades National Park, with plenty of challenging climbs and thrilling descents. Dates: July 6-20, 2019
 
Greatest Bicycle Tour of the Historic Canal: This is a family friendly, ride at your own pace bicycle tour of the C&O Canal Towpath. There are no hills, no headwinds and no cars. There will be plenty of food and lots of support. This will be the 32nd annual benefit ride for former San Mar Children's Home, now with a new name:  San Mar Family and Community Services. Dates: July 13-16, 2019

Five Hundred Miles Across New York: Also known as the Great Big FANY Ride, this ride benefits the Double H Ranch, a camp in the Adirondacks for critically ill children. You get to customize your distance each day and enjoy some jaw dropping scenery, lots of history, and arts connections along the way! Dates: July 21-27, 2019

Ride Around Washington (RAW): "Velds, Vistas, and Vines!" RAW 2019 will ride from Stevenson, WA to Yakima, WA, which will feature mountain climbs with stunning vistas, river gorges, and wonderfully quiet roads through hop fields and vineyards. You don't have to choose between beer and wine, this tour will offer both! Dates: August 3 - Friday, August 9

Cycle Massachusetts: Cyclists can choose the full week of touring, or shorter options of 2-5 days.  Full week features a loop ride from Amherst with three host towns. Daily options of 30- to 70-mile distances. Dates: Aug. 3-9, 2019

CaNDak: New name, same great ride! The route averages 375 - 440 miles with daily mileage ranging from 35 to 70 with a century option available to test your stamina.  You will experience all types of North Dakota terrain, from flat at wheat fields to steep hills. Dates: Aug. 3-10, 2019 

Black Hills Ride: This is a fascinating tour where you will cycle along lightly traveled roads and portions of the unforgettable Mickelson Trail, a 114-mile-long, gravel-surfaced rail trail.The ride begins and ends in Rapid City. You will visit the historic towns of Lead, Hot Springs, and Keystone, gateway to Mount Rushmore National Memorial, as well as Custer State Park. In addition, you'll see Crazy Horse Memorial and Wind Cave National Park, one of the largest and most complex caves in the world. Dates: Aug. 24-30, 2019

Pacific Coast South: The Pacific Coast South tour is among the world's most popular bicycle rides, traveling along some of the world's most marvelous coastline. Pedal out of Sausalito and ride over the Golden Gate Bridge, through San Francisco, and past a string of state beaches.   Dates: Sept. 1 – 15, 2019

WaCanId Ride: A 340-mile, fully supported bike tour on the International Selkirk Loop encompasses parts of Washington, Idaho and British Columbia. Riders can begin in three locations; Sandpoint, ID, Creston or Nelson, BC. Presented by Rotary Clubs of the Selkirk Loop. Dates: Sept. 9-14, 2019
Photo by Greg Edwards of Cycle Washington from Adventure Cycling Association 
Multiple Dates Available
Grand Canyon Mountain Biking: Six days of epic mountain biking through Kaibab National Forest and around Grand Canyon National Park on the iconic Rainbow Rim and Arizona trails. Multiple Tour Dates Available in May-August

Zion & Bryce Canyon Cycling: Revel in incredible cycling, hiking and scenery on a guided 6-day adventure in Zion and Bryce Canyon National Parks. Also visit lesser-known, fascinating destinations like Cedar Breaks and Kodachrome Basin.  Multiple Tour Dates Available in June-August

Grand Canyon Tour: This week long van supported mountain bike tour explores the North Rim of the Grand Canyon. Participants will ride the Rainbow Rim and Arizona Trails, as well as other trails above the canyon. Starts in Jacobs Lake. Multiple Tour Dates Available in September
This is not a list of all bicycle rides and tours happening in the spring and summer of 2019. The list only includes camping rides and tours, or ones where camping was an option. We also tried not to include rides and tours that were already sold out, or ones that had restrictions on bringing a camping cot. For more information on upcoming bicycle rides and tours, visit Biking Bis or Bicycle Tour Network. 
---