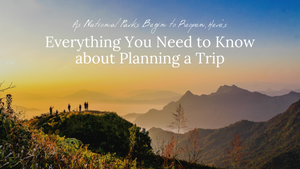 As National Parks Begin to Reopen, Here's How To Plan a Trip
Visiting a National Park Amidst COVID-19
Taking a trip to a national park is an incredible adventure that will have you in awe and leave you with lasting memories. Whether you have been to a national park before or this is your first time, each trip is unique and exciting. However, due to COVID-19, planning a trip to a national park this summer will be a little different.
Almost every national park made changes to adhere to the CDC COVID-19 guidelines, keeping only a few outdoor spaces and trails open. Other national parks have been closed completely for the past few months. Luckily, The National Park Service recently announced that they are slowly reopening and testing public access at a handful of major parks. As cited by The Points Guy, acting Park Service Director David Vela explained that travelers should expect "a different normal" and manage their expectations accordingly. Park visitors need to know that some areas and facilities may not be accessible.
Continue reading for our step by step guide that will help you plan your national park trip and ensure you have both a fun and safe trip this summer.
Planning Your National Park Trip
Step 1: Choosing a Park
Choosing a national park to visit will take much more research this year. A great resource for getting started is FindYourPark.com. This website shares information on parks across the country and activities offered at each of them. From there, The National Park Service highly encourages you to visit each individual park's website and social media pages to figure out what exactly is open and what you should expect upon arriving at the park.
One very important aspect in choosing a park this year will be accommodations. Many park campgrounds are not open yet, so do research on the surrounding area to make sure hotels, Airbnb's, or other campgrounds are accepting reservations. If not, choosing a national park close by and doing a day trip may be the best option. 
Step 2: Do Additional Research
We cannot express enough how important it is to do your research before taking any trip! As stated by The National Park Service, during this phased reopening approach modifications to park operations will be flexible, continually evaluated, and adjusted on a park-by-park basis with the support of NPS and Department of the Interior (DOI) leadership. Because of the constantly changing situation, visitors should regularly check with individual parks for specific details about their operations, rules, and regulations throughout the planning process.
If you are considering bringing your dog, definitely check the park's pet policies. Every park is different in terms of where dogs are allowed in the park and each have specific regulations pertaining to dogs. Some national parks have also adjusted their pet policies during the phased reopening, so even if you have visited a specific national park with your pet before, double check their current policies.
Step 3: Plan Your Visit
Now that you've picked your park and done your research, it's time to start planning your trip itinerary. Start by checkingout the "Things to Do" section (found under the "Plan Your Visit" tab on the park's nps.gov navigation bar). The "plan Your Visit" tab has also been updated for each individual park to help assist you in planning your trip amidst COVID-19.
If you find that you have a long list of activities you want to experience on your trip, try labeling each activity as either "must see/do" and "would like to see/do." This helps us fill up your itinerary with the most important things first. If you have extra time or flex days, that is where you can schedule in the "would like to see/do" activities. 
Another helpful tip when visiting a national park is to always give yourself enough time for each activity and don't jam pack your day(s)! For example, if a certain hike says it can be completed in 2 hours, go ahead and plan for 3 hours. That way you can stop along the way and take pictures, or just relax and enjoy the view without feeling rushed.
Step 4: Packing 
You've probably heard the phrase "there's no such thing as bad weather, only unsuitable clothing." Well, this is true! What clothes you pack can really make or break your trip. Before packing anything, check the forecasted weather and visit the "Weather" section on the nps.gov website. Then pack accordingly.
It's also important to be prepared for the un-forecasted weather. Pack a rain jacket or umbrella, waterproof hiking shoes, a dry bag for your cot, and a small quick-drying towel to keep you and your equipment dry.  Make sure to only pack clothing that wicks away moisture.  It may be chilly in the mornings and evenings, and then hot during the day, so make sure you're prepared for cool nights by sleeping off the ground on a cot with a wicking sleeping bag  This important for all weather conditions, whether you need to stay cool or warm. 
No matter what you plan on doing during your trip, it is always a smart idea to bring a first aid kit and extra food and water.
Step 5: Recreate Responsibility
With everything going on, this is an incredibly important step to ensuring your trip is both fun and safe. The National Park Service encourages all visitors to follow the most recent guidance from the Centers for Disease Control and Prevention (CDC) to reduce the spread of COVID-19. In addition, follow these tips for recreating responsibility: 
Stay home if you or anyone in your household is sick.
Familiarize yourself with and practice the Leave No Trace principles and 10 Essentials.
Follow the state and county orders governing the open status of the area you're considering visiting.
Only recreate with the people from your household and stay a minimum of 6 feet away from others. If you cannot stay 6 feet away, be prepared to cover your nose and mouth with a mask.
Keep in mind that first responders, parks, and communities are concentrating on responding to the pandemic, so it might be best to postpone challenging hikes or any activity that pushes your limits.
For more information on planning your national park trip amidst COVID-19, check out this resource from the NPS.
---