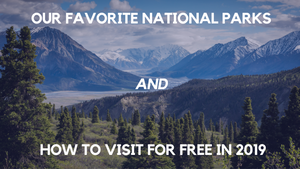 Our Favorite National Parks and How to Visit for Free in 2019
National Park Fee-Free Days
In a recent press release, The National Park service announced which days they are waiving entrance fees in 2019! They are:
Monday, January 21 – Martin Luther King, Jr. Day

Saturday, April 20 – First Day of National Park Week/National Junior Ranger Day

Sunday, August 25 – National Park Service Anniversary

Saturday, September 28 – National Public Lands Day

Monday, November 11 – Veterans Day
On these days, only the entrance fee is waived. It does include any other activities, such as camping. These selected days offer visitors, volunteers and veterans the opportunity to visit the parks and truly celebrate everything they represent! 
If you are passionate about National Parks and visit them often, consider getting a annual America the Beautiful National Parks and Federal Recreational Lands Pass. It gives you unlimited entrance to more than 2,000 federal recreation areas, including all national parks. It only costs $80, which we think is a great deal! They  do offer free or discounted passes for senior citizens, current members of the U.S. military, families of fourth grade students, and disabled citizens. To learn more, click here!
Our Top 5 National Parks
We love every opportunity to be outside, whether it's camping, hiking, or just enjoying nature, so we obviously love all National Parks! Every park offers unique experiences and it was very difficult to narrow down a top five, but here they are!
1. Denali National Park
Our absolute favorite National Park is Denali National Park. Located in Alaska, this park is home to Denali, North America's tallest peak. It also includes six million acres of purely wild land! Animals of all shapes and sizes run free just as they have for ages. This park offers solitude, tranquility, and true wilderness unlike anywhere else!
Within the park you will find only a few marked trails. The NPS states that Denali exists to provide people with a place to explore a trail-less wilderness. While this may seem intimidating at first, exploring this park without the limits of a trail is a truly amazing experience! In addition to hiking you can also camp in any one of the six campgrounds.
Denali, NPS Photo /Nathan Krostegian
2. Badlands National Park
The Badlands National Parkis located in South Dakota and includes more than 240,000 acresof land. The scenery here is just so unique and breathtaking. We love this park because it offers a wide variety of hiking and camping options. You can choose easier trails, like the quarter-mile Window Trail, or go all out and try the more challenging 10-mile Castle Trail. 
As far as camping, you can choose from the primitive Sage Creek Campground, the more developed Cedar Pass Campground, the group camping area, or you can go backcountry camping. All options provide an incredible experience!
Photo taken by Harlan Humphrey through NPS/Share the Experience
3. Acadia National Park 
Acadia National Parkis located in in the highest rocky headlands along the Atlantic coastlinein Maine. It is often referred to as the "Crown Jewel of the North Atlantic Coast. It has seven peaks over 1,000ft and 158 miles of hiking trails to explore, as well as two campgrounds. Other activities include bicycling, birdwatching, boating, climbing, fishing, horseback riding, and swimming. There are also numerous winter activities!
View from Cadillac, NPS Photo/Kristi Rugg
4. Glacier National Park
Glacier National Parkis located in Montana. This park made our list because there are just so many hiking trails and campground to choose from. You could come back year after year and never have the exact same experience. There are 13 different campgrounds and approximately 1,009  campsites to choose from. As for hiking trails, there are over 700 miles of trails ranging from short, beginner trails to extensive backpacking trails. Not to mention a stunning view in every direction you look.
Going to the Sun Road, NPS/Tim Rains
5. Channel Islands National Park
Channel Islands National Park includes five beautiful islands off the coast of California. Isolation over thousands of years has created unique animals, plants, and archaeological resources you won't see anywhere else on Earth. That alone is worth the visit! In addition, each island has its own exceptional hiking opportunities and an established campground. Other activities include diving, snorkeling, kayaking, boating, whale watching, and surfing!

Tim Hauf Photography, Arch Rock and Anacapa Island Lighthouse
---