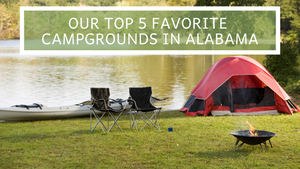 Our Top 5 Favorite Campgrounds in Alabama
Camping Season
Spring and Summer are right around the corner, which means it is almost prime camping season! Since many campgrounds require reservations and can fill up quickly during these seasons, now is the perfect time to start planning your upcoming camping trips!
Top 5 Alabama Campgrounds
Our favorite part about camping in Alabama is the wide variety of choices you have! You can camp up in the mountains, on a beach, or anywhere in between! With that being said, here are our top five favorite campgrounds in Alabama! 
1. Oak Mountain State Park Campground
Our favorite campground is located within Alabama's largest state park. Oak Mountain State Park encompasses 9,940 acres and has a wide variety of outdoor activities to enjoy during your stay. The most popular activities include mountain biking and hiking on the park's 50+ trails, horseback riding, and fishing.
The relaxing Oak Mountain Campground is surrounded by Beaver Lake and beautiful rolling hills. It includes 57 sites with water, electricity, and sewer, 27 sites with water and electricity, 60 primitive tent sites with water in area, and 6 tent sites with water and electricity. In addition, this park offers equestrian camping and backcountry camping.
Oak Mountain North Trailhead, photo from Alapark 
2. Lake Guntersville State Park Campground
Lake Guntersville State Park is located along the banks of the Tennessee River in Northeast Alabama and includes 6,000 acres of natural woodlands. This park is an outdoor enthusiast's paradise. With 36 miles of hiking and biking trails, excellent fishing opportunities, an 18-hole championship golf course, a beach complex, an outdoor nature center, kayaking and other water sports, you are definitely going to want to stay more than one night!
The Lake Guntersville State Park Campground is located at the bottom of Taylor Mountain and includes 65 water and electric sites, 100 plus primitive sites, and 229 sites with electric, water, and sewage hookups.
View of Lake Guntersville, photo from Alapark 
3. Wind Creek State Park Campground 
South of Alexander City on Alabama Highway 128 lies one of the largest state-owned campgrounds in the United States! Wind Creek State Park Campground includes 586 campsites and 39 premium campsites spread out over 320 acres. Separate from these campsites are 20 equestrian campsites that are first come first serve.
Wind Creek State Park as a whole includes 1,445 of scenic acres and it offers access to numerous outdoor activities. This park is also the public's access to Lake Martin, so water sports and fishing are the most popular activities. Be sure to check the schedule to see if there are any fishing tournaments going on during your stay!
A West Creek campsite, photo from Alapark 
4. Cheaha State Park Campground
Located in the Talladega National Forest, Cheaha State Park is centered on the top of the state's highest mountain at 2,411 feet above sea level. The park contains a total of 2,799 acres and includes stunning views, hiking and biking trails, waterfalls, a gem mine, and rock-climbing opportunities. What makes this park truly special, though, is its location. During your stay, be sure venture on any of the trails to enjoy the stunning views unlike any other in the state.
The Cheaha State Park Campground offers visitors a wide variety of camping options. There are 72 improved campsites (40 campsites in the Upper Campground and 32 in the Lower Campground), as well as semi-primitive camping near the highest point, and primitive camping near Cheaha Lake and along mountainside trails.
Cheaha Overlook, photo from Alapark
5. Gulf State Park Campground
If you are looking for a beach getaway, look no further than Gulf State Park! Located just 1.5 miles from the white sand beaches, the Gulf State Park Campground offers 496 modern campsites with paved pads and 11 primitive sites. Tents are welcome on all sites, and all full hookup camping pads are large enough for RVs with pullouts.
There is so much do here, you won't have to leave the park at all during your stay. Our favorite part about this campground is the Hugh S. Branyon Backcountry Trail, which contains 25 miles of paved, scenic trails perfect for walking or biking!
A campsite in Gulf State Park, photo from Alapark 
To learn more about Alabama campgrounds, click here!
---