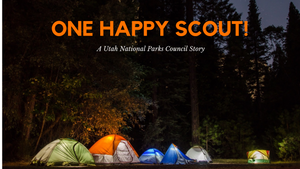 One Happy Scout!
We absolutely love when an interaction with a customer leads to a wonderful story that reminds us why we love our job. We just had one of these interactions and we are excited to share the story with you! 
The Perfect Gift
Back in early December 2018, a customer reached out to us worried that her purchase would not make it in time for Christmas. Her 14-year old son really wanted a GO-KOT and, having a teenager as well, we understand the pressure. We assured her it would arrive in time, and it did.
After receiving the GO-KOT, the customer let us know how excited her son was. He had a big camping trip coming up and he really wanted a GO-KOT to take with him! That part of the story alone made us so incredibly happy, but it gets even better.
Coming Full Circle
A few days ago, we received pictures of the GO-KOT from that same customer. Her son's camping trip was a success and he had so much fun! Through that email, we also found out that her son went camping with Troop 1747 of the Utah National Parks Council. The Troop has been using GO-KOT camping cots for quite some time and spending time with this Troop is what sparked her son's interest in the GO-KOT.
Hearing this story reminded us of our beginnings. GO-KOT was created by a Scout Master and Eagle Scout 40 years ago to provide Troops with a better cot. It brings us a great deal of pride to still be carrying on that tradition today!
Because of this tradition and the important role Troops like this play in the lives of our youth, we proudly offer a Troop discount on GO-KOT purchases. Please contact us prior to purchasing so we can apply the discount for you!
We also wanted to say special thanks to Troop 1747 for supporting us and American made products!
More information on the Utah National Parks Council
The Utah National Parks Council (UNPC) is the local council of the Boy Scouts of America (BSA) that serves youth in areas of Utah and in some isolated areas of Nevada and Arizona.  It is the mission of the BSA to serve others by helping to instill values in young people, and in other ways, to prepare them to make ethical choices during their lifetime in achieving their full potential. The Utah National Parks Council fulfills this mission and aims of Scouting by fully supporting each Chartered Organization. The Council, through its Districts, provides the training, communications, programs, activities, camping facilities, service facilities, volunteer resources, volunteer recognition, and professional resources necessary for the successful use of Scouting's methods.
 Photo from UNPC Facebook Page
---