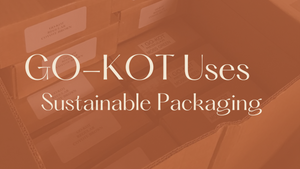 GO-KOT is Proud to Use Sustainable Packaging
The Importance of Sustainability in Packaging
As stated by McKinsey & Company, the global packaging industry has been enjoying steady growth over the past decade. The driving forces include shifts in choice of substrates, expansion of new markets, and changing ownership dynamics.
However, this growth has led to increased use of plastics and single use packaging waste to replace other substrates and accommodate consumers' demand for convenience. As a result, plastics and single use packaging waste is ending up in our oceans and pushing landfills to their limit. This is creating a heavy burden on the environment.
What Can Businesses Do?
Consumers are becoming more aware of the packaging industry's role in the current environmental crisis and are looking to support businesses who are doing their part to drive major changes in consumer packaging. Listed below are a few ways businesses can become more sustainable with their packaging as outlined by Lumi:
1. Use Minimal Packaging: One of the best ways to keep the environmental impact of your packaging minimal is to cut down on excess packaging. The best way to do this is to design your packaging to fit products snuggly, or choose the smallest size packaging as possible.
2. Choose the Right Materials: Choose recycled materials to create your packaging. If this is not possible for your business right now, choose easily recyclable materials for your packaging instead. Make sure to educate your customers on how exactly to recycle the packaging as well!
3. Be Mindful of Void Fill: If you have to use void fill in your packaging, make efforts to maximize its potential for a second life. You can choose void fill made from recyclable materials or even some of your own post industrial waste.
4. Return Trip Packaging: Another great option is to design your packaging for a return trip. You can use easy-to-open features like perforated tear strips to reduce damage and add double adhesive strips make it easy to seal and return. This ensures your packaging can be re-used or recycled properly!
GO-KOT's Efforts
Here at GO-KOT we are working to become more sustainable! When it comes to our packaging for GO-KOTs, we use minimal, right-sized cardboard boxes that have already been recycled or are recyclable. This means we use little to no fill. In addition, we ensure that all hangtags and instructions are created to have a very small footprint.
If you have questions about our packaging or have ideas on how we can improve, comment below!
---