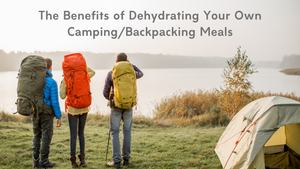 The Benefits of Dehydrating Your Own Camping/Backpacking Meals
Camping/Backpacking Meals
When you have an upcoming camping or backpackinging trip, one of the most important elements to plan for is your meals. Adequate nutrition is very important to ensure you enjoy your trip, stay healthy, and avoid fatigue. Whether you are trying to pack light or just looking for the best meal options, we highly recommend dehydrating your meals yourself! Not convinced? Read on to learn the benefits of dehydrating your own camping and backpacking meals!
1. You Save Money
Processed snacks and prepackaged meals can get expensive quickly, especially if you are buying the organic versions. When it comes to buying store bought dehydrated meals, you can pay up to $11 per serving! Buying fresh foods in bulk and dehydrating them yourself can add up to a lot of savings.
2. It Is Better For Your Health
Dehydrated foods are already a healthy choice. For example, dehydrated fruit has higher levels of antioxidants, fiber, and concentrated energy than the equivalent weight of fresh fruit. In addition, when you dehydrate your own fresh foods, you are ensuring you are not consuming chemicals or other additives.
3. It Is Easily Customizable
There is no need to spend time searching for the right meal pack that fits your exact needs. When you dehydrate your own meals, you can customize them to your unique needs and tastes, whether it is Vegan, Vegetarian, Gluten Free, or simply avoiding certain food allergies.
4. You Have More Options
The options for meals and snacks are endless when you are dehydrating them yourself! You can make one pot meals, single or multiple ingredient snacks, smoothies, soups, etc, all that can be eaten dehydrated, cooked in water over the fire, or have cold water added! For more information on how to dehydrate these items, visit Light Heart Gear!
5. It Reduces Waste
In the United States, it is estimated that we waste $165 billion worth of food every year. In addition, containers and packaging for processed food products resulted in 29.4 million tons of waste that was landfilled just in 2015 alone. When you dehydrate your own food, you can prevent your food from spoiling and being wasted. You will also be buying less processed foods, which helps reduce container and packing waste. 
 For a detailed "Hot To Guide" on dehydrating food, check out this REI article!
Photo Courtesy of REI
---