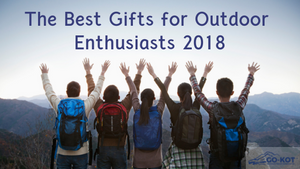 The Best Gifts for Outdoor Enthusiasts 2018
The Holiday Season Is Almost Here!
Thanksgiving is right around the corner, which means it is time to start holiday shopping! Is it just us or has holiday shopping gotten more difficult every year? Well, if you have a friend or family member who is an outdoor enthusiast, then we got you covered. We have created the best list of gifts that every outdoor enthusiast will love! We either have or have tried all of these products, so we are sure they won't disappoint!
1. Folding Kayak
This folding kayak is the perfect gift for that person in your life who loves being on the water. We love this kayak because it is foldable! The 10ft kayak can be easily folded and placed in the trunk of your car, in your RV, or in a small closet. It's made from a revolutionary polymer developed by the US Aerospace industry for its impact resistance, and unique ability to "bend & fold" over 1000's of cycles without failure.
It's made with 1/8 inch, thick HDPE that will not rip, tear, or puncture. There are also no open folds below the top level of the kayak, all of which make it unsinkable! It also exceeds US Coast Guard Manufacturing & Safety requirements.
Click here to purchase! It may be the only kayak your friend or family member will ever need!
2. CreekKooler
™
This is another great gift for those who love being out on the water! The CreekKooler™ is an innovative, patented floating cooler designed with dual-wall construction and top quality insulation resulting in superior ice retention. The CreekKooler™ easily attaches to and floats behind kayaks, canoes, SUPs or rafts, providing easy access to your loved one's favorite beverages and food!
Click here to purchase!
3. 
GO-KOT®
If you have a friend or family member that loves camping, travels a lot, or has mentioned never having room for guests, then this is the gift for them! The GO-KOT® is the only cot constructed with rugged 1000-denier nylon. With a practically indestructible, state-of-the-art aluminum frame and spring steel legs, each GO-KOT® weighs just 10 lbs and supports up to 350 lbs.
It is one of the most comfortable and durable cots on the market. It can also be easily set up and taken down in less than a minute, making it perfect for those always on the move or who need a cot that can be easily stored. Bonus, it makes a great guest bed!
Click here to purchase!
4. 

GRAYL Ultralight Water Purifier

 

For those who love global traveling, outdoor adventures, hiking, backpacking, camping, or just like being prepared for emergencies, this water bottle is a must. The GRAYL Ultralight Water Purifier has an award winning One Press design that makes clean, purified drinking water in only 15 seconds from virtually any fresh water source in the world. Simply fill up the water bottle, press the filter down, and drink! 

There is no sucking, squeezing, pumping, prolonged waiting, ultraviolet bulbs, or batteries required and it removes 99.9999% of viruses, disease-causing bacteria, and protozoan cysts. It also filters particulates, chemicals, and heavy metals, all while improving clarity and flavor. 

Click here to purchase!
5. Livingstone Brand 
25L Alberta Pack
This backpack is really perfect for everyone, but especially for travelers and outdoor enthusiasts! This 25L Alberta Pack is made with both tear/water-resistant nylon and YKK zippers so it can withstand any weather conditions. It also has breathable mesh straps that relieves stress on the shoulders and back, while maintaining a comfortable temperature.
What if your loved one does a lot of camping and traveling and is looking for a simple daypack to have during their adventures? Well, the Alberta Pack is perfect for that too! It easily stores in a 7 inch pouch and weighs less than half a pound, so it takes up no room in a larger backpack or suitcase. It really is the most practical daypack on the market. Bonus, a portion of all sales are donated to National Parks and it comes with a lifetime warranty! 
Click here to purchase!
6. Scrubba Wash Bag
We think this is such a cool idea! The Scrubba Wash Bag makes it easy to wash clothes anytime, anywhere! It is pocket sized when folded up and only weighs 5oz. It is the absolute best gift for those who love to camp, backpack, or budget travel for an extended amount time. It allows them to pack less and eliminates the stress of finding a laundry facility.
Click here to purchase! Be sure to watch the video in the link as well, so you can see just how well it works!
7. MPOWERD Luci Outdoor 2.0 - Inflatable Solar Light
This outdoor lantern is the perfect gift for anyone who enjoys camping, hiking, biking, kayaking, sailing, fishing, paddle boarding or really any outdoor activity! It is inflatable, collapsible, lightweight (weighs only 4.4 ounces), fully waterproof & submersible! This solar LED light is completely powered by the sun, no additional batteries are needed. It also features a top and adjustable base strap, which is convenient for clipping onto a backpack, hanging in a tent, or stringing up wherever you need light!
Click here to purchase!
8. 
L'il Sucker® Holster
The L'il Sucker® is a super fun gift for those who love outdoor activities! These holsters keep drinks upright on even the most extreme adventures, like boating, paddle boarding, RVing, you name it! This gift will help your loved one explore the world around them with confidence of knowing that their drink is safe from spillage!
The L'il Sucker® Original suctions to any smooth surface and fits beverage cans, beer/soda bottles, Tervis Tumblers, Yeti Ramblers up to 30oz, or any other container with up to a 3″ diameter.
Click here to purchase! If you're interested to see how it works, click here to watch the video!
9. 
Flying Fisherman Fowey Polarized Sunglasses
These glasses aren't just for fisherman! They are perfect for all outdoor enthusiasts! These Fowey glasses are polaroized and offer 100% protection from harmful UVA and UVB rays. They are also super durable and scratch resistant, so they can hold up during any adventure!
They look similar to Ray-Ban® and offer amazing color contrast. If they fly off while jet skiing or boating or they get lost on a camping trip, no worries! They are only $15 on Amazon.  
Click here to buy!
10. The Roan Mammoth Windbreaker
This is one of the best windbreakers on the market. The story behind the jacket is also great. The creators were hiking a section of the Appalachian Trial, when they experienced the coldest and windiest night of their lives atop the Roan Highlands. After that night, they created The Roan, a windbreaker that will keep you sheltered in the harshest of wind gusts!
Click here to purchase The Roan! Be sure to check out the rest of their website as well, because all their clothing is awesome and would make a great gift!
---