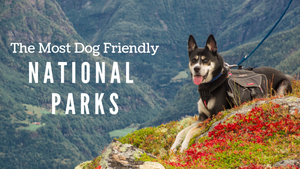 The Most Dog Friendly National Parks in The U.S.
Traveling With Pets
Traveling with pets is becoming more and more popular, and dog owners like us love bringing our furry friends along on outdoor adventures! While National Parks used to not allow pets at all, the rules have been changing over the years. Since this is a popular topic among our fellow dog lovers, we decided to write a post listing our favorite dog friendly National Parks in the country!
Dog Friendly National Parks
1. Shenandoah National Park
Not far from Washington, D.C., Shenandoah National Park's cascading waterfalls, spectacular vistas, and quiet wooded hollows offer a great getaway for you and your pup! Of the 500 miles of trails, there are only a few trails (less than 20 miles worth) that are off-limits to dogs! In addition to plenty of dog-friendly hiking trails, pets are also allowed in the campgrounds and in the pet-friendly lodges.
Photo by NPS/Neal Lewis
2. Acadia National Park
Another one of our favorite pet-friendly National Parks is the Acadia National Park in Maine. Of the 158 miles of hiking trails and 45 miles of carriage roads, pets are allowed on 100 miles of the hiking trails and all 45 miles of the carriage roads. The Blackwoods, Seawall, and Schoodic Woods campgrounds also permit pets. In addition, Isle au Haut allows day hiking with pets.
3. The Grand Canyon National Park
The Grand Canyon National Park in Arizona is a little more restrictive but still has many great trails and accommodations for your pets! On the South Rim, leashed pets are allowed on trails above the rim, as well as in the Mather Campground, Desert View Campground, Trailer Village, and throughout developed areas. There is even a boarding facility, South Rim Kennel, for you to board your pets during your stay. On the North Rim, leashed pets are allowed on the bridle trail (greenway) that connects the North Kaibab Trail, and the portion of the Arizona Trail north to the park entrance station.
Photo by NPS/E. Huggs
4. Cuyahoga Valley National Park
A short distance from the urban areas of Cleveland and Akron, Cuyahoga Valley National Park in Ohio is decidedly pet-friendly! There are over 110 miles of hiking trails and the 20 mile Towpath Trail that your pet can join you on! Pets are also permitted in the Stanford Campground. 
5. Great Sand Dunes National Park and Preserve
Visit the Great Sand Dunes National Park and Preserve in Colorado to see the tallest dunes in North America, and bring your pup along for the adventure, too! Pets are permitted in the Preserve, including on the Mosca Pass Trail, and all the main use areas of the Park including Piñon Flats Campground, Dunes Overlook Trail, and along the Medano Pass Primitive Road.
Photo by NPS/Patrick Myers
6. Olympic National Park
Olympic National Park in Washington State encompasses several distinctly different ecosystems, including glacier-capped mountains, old-growth temperate rain forests, and over 70 miles of wild coastline. Pets are allowed in campgrounds and picnic areas as well as on any paved or dirt roads. They are also allowed to hike on the six trails listed on their website!
7. Petrified Forest National Park
Arizona's Petrified Forest National Park is one of the country's most unique parks and it is an exciting place to explore for both you and your furry friend! Pets are allowed on any of the Park and Wilderness Area hikes and on the camping and backpacking trails. 
8. 

Mammoth Cave National Park

The world's largest known cave system is found in Kentucky at the Mammoth Cave National Park! With the exception of designated service animals, pets aren't allowed in the actual caves. However, they are welcome to explore the park's above-ground hiking trails with you and they can stay in the woodland cottages. Their website also states that the hotel maintains a kennel and you can call or email for availability!
National Park Service Photo
BARK Ranger Program 
This is an exciting and relatively new program that helps promote responsible and positive pet experiences at National Parks and Monuments. BARK stands for:
Bag your dog's waste
Always use a leash
Respect wildlife
Know where you can go
When you arrive at the park you are visiting, ask about the BARK Ranger Program at any park entrance or stop by the visitor's center! You will be informed of the above guidelines and then you and your pup take the pledge to be good advocates for pet policies! At the end of your trip you may either be awarded with a BARK Ranger tag or badge. You can also purchase one as a donation to the park. 
If you are unsure if the park you are visiting offers the BARK Ranger program, be sure ask anyway! Even if they do not offer the program, they can give you helpful information about where you are allowed to take your pet. Also, showing interest in the program can help it gain traction and continue expanding! Here are a few parks that are currently offering the BARK Ranger Program.
For more information on the BARK Ranger program, click here!
Additional Information
Before visiting a National Park, Preserve, Monument, or Forest with your pet, always check the official website or give the visitor's center a call and ask about the rules and regulations regarding pets. Rules vary from park to park and it is important to know them beforehand. 
Regardless of what park you plan to visit, pets must remain on a 6ft leash or kenneled at all times. They also should not be tied up or left unattended at any time. This is for their own safety and the safety of those visiting the park, as well as to ensure the delicate ecosystems of all National Parks remain preserved and undisturbed. 
Before taking your trip, remember to come prepared. Bring enough food, water, and doggie waste bags. If the trails you plan to go on are rocky and sharp or if the weather will be extremely hot or cold, consider bringing protective booties for your dog. 
For more information, click here! You can also find an interactive map of all National Parks and their pet regulations here.
Photo by NPS/David Restivo
---