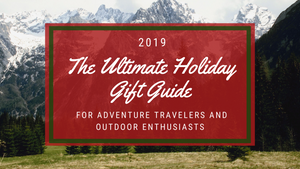 The Ultimate Holiday Gift Guide For Adventure Travelers and Outdoor Enthusiasts
It's Time for Holiday Shopping!
Thanksgiving is right around the corner and Christmas won't be far behind! That means it is time to start holiday shopping! It may just be us, but it seems like holiday shopping has gotten more difficult every year. This is especially true if you have a friend or family member who is an outdoor and travel enthusiast because they often only need lightweight must have items that will enhance their adventurous experiences without weighing them down too much.
If that sounds like someone you know, then we've got you covered! We have created the best list of gifts that every outdoor enthusiast and adventure traveler will love! We have either tried all of these products or they come highly recommend from friends and family, so we are sure they won't disappoint!
Gear and Necessities 
1. 
GO-KOT®
If you have a friend or family member that loves camping, travels a lot, or has mentioned never having room for guests, then this is the gift for them! The GO-KOT® is the only cot constructed with rugged 1000-denier nylon. With a practically indestructible, state-of-the-art aluminum frame and spring steel legs, each GO-KOT® weighs just 10 lbs and supports up to 350 lbs.
Many people do not realize that a camping cot comes in handy in so many different scenarios, especially when you're traveling! Whether you are going abroad or staying local, you never know when you might need a bed for the night! Staying at a hotel, hostel, or a friend or family member's house and need an extra bed? Going on a road trip and plan on camping along the way? The GO-KOT is the answer! Bonus, it can also be easily set up and taken down in less than a minute, making it perfect for those always on the move or who need a cot that can be easily stored. 
Click here to purchase!
2. 

GRAYL Ultralight Water Purifier

 

For those who love global traveling, outdoor adventures, hiking, backpacking, camping, or just like being prepared for emergencies, this water bottle is a must. The GRAYL Ultralight Water Purifier has an award winning One Press design that makes clean, purified drinking water in only 15 seconds from virtually any fresh water source in the world. There is no sucking, squeezing, pumping, prolonged waiting, ultraviolet bulbs, or batteries required. Simply fill up the water bottle, press the filter down, and drink!  

GRAYL Purifier cartridges are throughly tested to meet or exceed United States Environmental Protection Agency's National Drinking Water Standards. The cartridges remove 99.9999% of viruses, disease-causing bacteria, and protozoan cysts. They also filter particulates, chemicals, and heavy metals, all while improving clarity and flavor. 

Click here to buy!
3. Kuju Coffee 
Pocket PourOvers®
This is hands down one of our favorite coffee products! The ethically sourced coffee is delicious and the pour overs are so easy to use. With their Steady-Safe™ pour over filter, all you need to do is anchor to your mug, pour hot water, and voila- your coffee is ready! Anyone who loves coffee needs this product. Whether you are camping, hiking, backpacking, traveling, or just feeling a little lazy at home, Kuju Coffee Pocket PourOvers® is the best way to get that much desired, quick cup of delicious coffee. 
There are a few more reasons we love this company. The coffee farm employs former sex-trafficked victims, they use 100% wind powered manufacturing, and a 1% donation is made to National Parks for every sale. Every time you enjoy this coffee, you know we are making an impact.
Click here to purchase!
4. Stanley Classic Legendary Thermos
We have tried so many different thermoses that we have lost count. All we know is that this is by far the best one we have ever used! The company claims this thermos will keep beverages hot for 40 hours, cold for 45 hours, and iced for 7 days... and guess what? It does! We have tested all the claims and we were beyond impressed. So, for that loved one who is always on the go, this is the best gift for them!
The 1.5 QT thermos goes for $40. As if you needed more reasons to purchase, it only weighs 2lbs, is BPA-free, has double-wall vacuum insulation, is leakproof + packable, has an insulated lid that doubles as cup, AND it is dishwasher safe. 
Click here to buy it!
5. Livingstone Brand 
25L Alberta Pack
This backpack is really perfect for everyone, but especially for travelers and outdoor enthusiasts! This 25L Alberta Pack is made with both tear/water-resistant nylon and YKK zippers so it can withstand any weather conditions. It also has breathable mesh straps that relieves stress on the shoulders and back, while maintaining a comfortable temperature.
What if your loved one does a lot of camping and traveling and is looking for a simple daypack to have during their adventures? Well, the Alberta Pack is perfect for that too! It easily stores in a 7 inch pouch and weighs less than half a pound, so it takes up no room in a larger backpack or suitcase. It really is the most practical daypack on the market. Bonus, a portion of all sales are donated to National Parks and it comes with a lifetime warranty! 
Click here to purchase!
6. Live Infinitely Double Lightweight Camping Hammock
We LOVE this hammock! It is made from quick-drying, weather and mildew resistant 210T parachute grade nylon and weighs only 1 pound 6 ounces. It is large and sturdy enough to fit two adults comfortably, but the best part is the straps. They are stretch resistant Poly-Filament Webbed tree straps with 16 attachment points each, so they are easily adjustable and allow you to set up just about anywhere! If you know someone who loves to relax in their backyard, in the park, or on their camping trips, then this is the perfect gift for them! Plus, it is one of the more affordable hammocks on the market, costing just under $40.
Click here to get it!
7. 
Jetboil Flash Camping Stove Cooking System
When camping and exploring the backcountry, a compact and efficient stove is fundamental, no matter the level of cuisine you want to create! Out of all the compact stoves we've tried, this jet boil is the best and it allows you to boil water in just 100 seconds! There is a color heat indicator for safety and efficiency, so you know exactly when your water is boiling and the bottom cup doubles as a bowl and a measuring cup. It also only weights 13.1oz so it is perfect for those trying to pack light for their adventure!
Click here to buy!
8. 
Outland Firebowl Portable Fire Pit
No camping trip is complete without a campfire! However, many campgrounds and public lands have campfire restrictions/bans. This portable fire pit is the perfect solution! It creates a clean, safe and realistic propane campfire and eliminates ash, smoke, and the need to buy expensive firewood. It is travel sized, lightweight,, portable, and sets up easily with no tools required! So if you know someone who loves camping, RVing, tailgating, or just relaxing on their patio, they will love this fire pit!
Click here to purchase!
Gadgets
1. Kindle Paperwhite
The best way to pass the time on a long travel day is to read! Our favorite device is the newest Kindle Paperwhite. It features a 300 ppi, glare-free Paperwhite display, laser-quality text, and twice the storage of the previous generation. Plus a single battery charge lasts weeks, not hours. It is also lightweight and now waterproof, so you can truly take it with you anywhere. Click here to get it!
In addition, here is a list of some of the best books for travelers and adventure seekers:
Vagabonding by Rolf Potts
World Walk by Steven Newman
The Alchemist by Paulo Coelho
Comfortably Wild by Mike and Anne Howard
In a Sunburned Country by Bill Bryson
The Hidden Europe by Francis Tapon 
2. MPOWERD Luci Outdoor 2.0 - Inflatable Solar Light
This outdoor lantern is the perfect gift for anyone who enjoys camping, hiking, biking, kayaking, sailing, fishing, paddle boarding or really any outdoor activity! It is inflatable, collapsible, lightweight (weighs only 4.4 ounces), fully waterproof & submersible! This solar LED light is completely powered by the sun, no additional batteries are needed. It also features a top and adjustable base strap, which is convenient for clipping onto a backpack, hanging in a tent, or stringing up wherever you need light!
Click here to purchase!
3. 
BESTEK Universal Travel Adapter
Do you know a gadget obsessed traveler? Then they need this gift! It can charge up to 7 devices simultaneously in over 150 countries around the world! Not only is it an adapter, but a surge protector also, which we can't recommend enough! We have tried several travel adapters, and this is one of the best adapters out there.
Click here to buy!
4. 
Steamfast Mini Steam Iron
This mini travel steam iron is the smallest in the world, only being about the size of a computer mouse! When we came across this item, we bought it immediately! If you know anyone who travels a lot for business, or who just hates getting to their destination and having wrinkled clothes, then this is the best possible gift! Being under $25 and having dual voltage, it is practical, affordable, and can be used just about anywhere!
Click here to purchase!
Apparel
1. Travel Buddy Packable Puffer
This might be the coolest and most practical clothing item we've ever seen. A sustainably made, super soft and comfortable puffer jacket that packs down into a handy attached neck pillow?! Genius. It can be layered, so it is perfect for freezing cold weather, or weather that is somewhere in between. And it won't take up any extra space on your flight or long road trip because you will be using it as a pillow! Definitely a must have for any traveler!
This jacket is available for both men and women and can only be purchased from Madewell. Click here to buy it!
2. The Roan Mammoth Windbreaker
This is still one of our favorite windbreakers and possibly the best one on the market. The story behind the jacket is also great. The creators were hiking a section of the Appalachian Trial, when they experienced the coldest and windiest night of their lives atop the Roan Highlands. After that night, they created The Roan, a windbreaker that will keep you sheltered in the harshest of wind gusts! For those who love the outdoors and traveling, they know how quickly the weather can turn. Help them be prepared for the windiest conditions by gifting them this windbreaker!
Click here to purchase The Roan! Be sure to check out the rest of their website as well, because all their clothing is awesome and would make a great gift!
3. Seek Discomfort Apparel
We recently came across a YouTube channel called the Yes Theory. The group is made up of four guys: Ammar from Egypt, Thomas from France, Matt from the US and Derin from Turkey. Together, they spread the idea that life is best lived outside of your comfort zone. They encourage themselves and strangers to say yes to traveling, new adventures, making friends, trying new experiences, and overall just saying yes to getting out of your comfort zone. It is an amazing message that all fellow outdoor enthusiasts, travelers, and adventure seekers are sure to relate to and appreciate! 
Their apparel line, Seek Discomfort, is not only stylish and well made, but it also helps spread the message of love and adventure! They have new arrivals every month, so be sure to check back often.
Click here to check it out!
4. 
Flying Fisherman Fowey Polarized Sunglasses
These glasses aren't just for fisherman! They are perfect for all outdoor enthusiasts! These Fowey glasses are polaroized and offer 100% protection from harmful UVA and UVB rays. They are also super durable and scratch resistant, so they can hold up during any adventure!
They look similar to Ray-Ban® and offer amazing color contrast. If they fly off while jet skiing or boating or they get lost on a camping trip, no worries! They are only $15 on Amazon.  
Click here to buy!
Miscellaneous
1. K9-KOT™ by GO-KOT®
If you know someone who absolutely loves their dog, loves traveling with their dog, or just loves spoiling their dog, then this is the perfect gift. Made just like the original GO-KOT®, the K9-KOT™ is nearly indestructible and is easily transportable. It is the perfect bed for any dog because it gets them off the ground, is softer on their joints, and provides a comfortable sleeping spot no matter where they go. If you are the kind of person that buys gifts for their own four legged friend (No shame! We certainly do!) then this is the perfect gift for your dog as well!
Click here to purchase!
2. 

Trekking The National Parks Board Game
Honestly, we think board games are one of the best gifts you can give! Games get everyone off their phones, encourage more interaction with one another, and really bring family and friends together! This board game inparticluar is great for families who love to explore and go on adventures. The rules are simple, but it is strategically challenging enough for all ages to enjoy! The best part is, you learn about each National Park as you play, so it sparks your wanderlust and desire to visit all the parks!
Click here to buy!
3. Ticket To Ride Board Game
There is no better game for travel lovers than Ticket to Ride! This is our absolute favorite game to play with friends and family, and no matter how many times we play it, we still get just as excited and involved! It is strategy game where players claim train routes across the map to complete their destination tickets. You draw a new combination of tickets every time you play, so it never gets old! There are multiple games in the series including USA, Europe, Germany, Asia, Africa, Nordic Countries, United Kingdom, and even Rails and Sails - which is a world map that includes both train and boat routes. Every time we play this game we discover new paces we'd love to visit and it sparks so many fun travel conversations.
Click here to learn more about each game in the Ticket to Ride series, and click here to purchase the first game in the series: Ticket to Ride USA!
Happy holiday shopping everyone! And if you know of a unique or beneficial gift idea for those who love adventures and traveling, comment below and let us know!
---