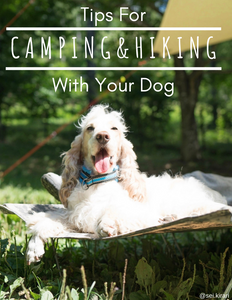 Tips for Camping and Hiking With Dogs
Camping and Hiking With Dogs
Camping and hiking are some of the best ways to relax and enjoy the great outdoors. These activities are even more fun, though, when you bring your furry friend along for the adventure! To make sure your dog stays happy and safe while camping or hiking, follow these tips from The American Animal Hospital Association, The American Kennel Club, and PetMD!
Make Sure Your Dog is Comfortable With the Gear
Set up your tent and lay out all your gear in the house or in your backyard and let your dog check everything out. Give lots of treats and positive reinforcement to make sure they are not nervous or scared of anything.
Make a Trip to Your Vet
Take your dog to the vet and make sure they are healthy and up-to-date on all shots before traveling and spending extended periods of time outdoors. Make sure to get a copy of their vaccine records to have in your glove box in case you need it and ask your vet about a pet first aid kit to see what they recommend bringing in case of an emergency.
Flea and Tick Prevention
There will be all sorts of insects, including fleas and ticks, in wooded areas where most campsites and trails are located. So, make sure each dog is on a flea and tick preventative! You can also bring along a pet-friendly insect repellent for other bugs that may bother your pet.
Check for Dog Friendly Locations
Before each hiking or camping trip, look up the location's pet policies. Most campgrounds and hiking trails allow pets, but it is good to know their specific policies. Be prepared as most campground have limits on the number of dogs per campsites and most require dogs to be leashed at all times!
Be Aware of the Weather
During the warmer months, be very careful to not overexert your dog and make sure they have access to plenty of water and shade. Most dogs will love hiking and camping in the cooler months, but be cautious when the whether starts to drop below 32 degrees. Size, breed and age all have an affect on how dogs handle cold weather, so here is a chart to help you determine what temperatures are safe for your dog!
On or Off Leash? 
There are some hiking trails and areas in campgrounds where your dog can be off leash. However, for your dogs safety it is recommended to always keep your dog on a leash in new areas. If you do decide to let your dog off leash, make sure they have a strong recall. Bring treats with you on hikes and be aware of your surroundings so you can keep your dog safe.
Plenty of Water
Whether it is hot or cold outside, have a fresh bowl of water available at your campsite and bring enough water with you on hikes. Before you leave the house, make sure where you are heading has drinking water available. If not, be sure to pack enough water for both you and your dog!
Pack All The Essentials
When camping or hiking with your dog, make sure to bring everything they might need. Water, food, treats, chew toys, doggie bags, a leash, a stake with a lead or "tie-out" for while your at the campground, extra blankets and towels, a comb or brush, and a large enough tent for them to sleep comfortably with you! Possibly an extra GO-KOT too, if your dog loves sleeping on one as much as ours do!
Pick Up After Your Dog
Always pick up after your pet so campgrounds and hiking trails will remain pet friendly!
Have Fun!
Camping and hiking is just as much for your dog as it is for you. Following these tips will help keep you both happy and safe, so you can continue to enjoy the great outdoors together! 
All pictures used in this blog post are from customers who have shared their GO-KOT pictures with us on Instagram using #GOKOT. In order, credit given to those Instagram accounts are as follows: @duncantheadventurespoo @sei.kirari @newbillv @naochan621
---