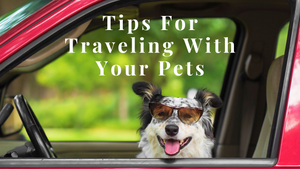 Tips for Traveling With Your Pets
Traveling With Pets
For many of us, our four legged friends are a part of our family, and no family vacation would be complete without them! If this is how you feel, you are not alone! According to Lisa Marshall, communications director for the Wisconsin Department of Tourism, traveling with pets is becoming a "nationwide trend." She states, "Personally, I think the pet-friendly travel trend reflects a bigger trend in pet ownership and how dogs are treated like family members."
According to a survey by the American Pet Products Association, 37% of pet owners travel with their animals, which a large increase from 19% 10 years ago. So, whether you are taking a family vacation, going on a camping trip, moving to a new state, taking a cross country road trip in your RV, etc., traveling with your pet takes some planning. Follow these tips to help you prepare!!
Safety Tips
Make sure your pet is microchipped and has updated tags on their collar.

Have digital and hard copies of their rabies certificate and other health records. Hotels, campgrounds, and other types of lodging may require proof of vaccinations before you can stay with your pet, and if you need to visit a vet away from home, you'll need all this information.

If you will be spending a lot of time in the car, consider purchasing a dog seatbelt or a well-ventilated crate or carrier to keep them safe.

If your dog has anxiety or is easily stressed out, talk to your vet about calming treats or medicine.

Pack plenty of their dog food and bottled water, this is especially important if your dog has a sensitive stomach. Having water from different areas or switching foods abruptly can cause upset stomachs.

New situations can cause uneasiness, and things that used to not scare your dog could unexpected spook them while traveling. So, make sure to use well fitted harness or a martingale collar to ensure your pet doesn't slip out and get away.
For more safety tips, visit ASPCA.org.
Finding Pet Friendly Accommodations
If you will be tent camping or staying in your RV, finding pet friendly accommodations is pretty easy! Most campgrounds allow well-behaved pets as long as they remain on a 6ft leash and do not make too much noise. However, it is always a good idea to ask when you call and make your reservations.
Hotel stays with pets, though, are a whole different story. Luckily, Bankrate recently wrote an article full of tips for finding pet friendly hotels:
Do your research! Check out websites such as GoPetFriendly.com or BringFido.com.

Once you've narrowed your search down, do some more research on those specific hotels. Do they offer pet friendly amenities? Or are there any amenities for your pet nearby? Things such a walking trails, doggie day care, dog parks, groomers, etc. Depending on how long your stay will be and what your schedule looks like while traveling, these options may be important when choosing a hotel.

Always call to confirm the hotel of your choice does allow pets and ask for more information on their pet policy to make sure you are prepared.

When booking your reservation, ask for a ground floor room if possible. This makes potty breaks easier and you won't disturb guests below you if your pet wants to play.
Additional Tips
In their article, the Bankrate staff outlined some additional tips that will be useful while traveling with your pets. Not only will these tips help you and your pet feel more relaxed, but they can even help you avoid extra charges during your hotel stay.
Take your pet for a nice long walk or run before getting on the road or checking into a hotel. This will help them feel calmer and more relaxed in their new surroundings.
Bring their crate, plush bed, or K9-KOT so they have a familiar "safe space" to sleep and feel comfortable. 
Bring chew toys, bones, or food puzzles to keep your pet occupied and happy. Not only will this reduce stress, but it will help avoid any destructive behaviors. 
Pack a rubber mat or no spill dog bowls to help keep messes to a minimum. 
For more information, visit Bankrate!
---