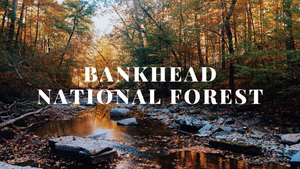 GO-KOT Camping Cot Weekend Getaway: Bankhead National Forest
Fall is officially here, which means it is time to
grab your camping cot
, enjoy the fall foliage, and camp in the cooler temperatures! There are so many fun outdoor activities and campgrounds in the state of Alabama, and today we will be highlighting the Bankhead National Forest as part of our "weekend getaway" series. 
About Bankhead National Forest
Known as the "land of a thousand waterfalls," the Bankhead National Forest is one of our absolute favorite hiking and camping spots in Alabama, especially in the fall!  It is located in the northwestern corner of the state near the small town of Double Springs in Winston County, which is about an hour away from Birmingham. It includes over 180,000 acres of protected national forestland and stunning views. Located within the Bankhead National Forest is the Sipsey Wilderness, which is the largest national forest wilderness area east of the Mississippi.
Holmes Chapel Falls in Bankhead National Forest by Dave Edens, Flickr
Plan Your Visit
Hours:
The forest is open for use 24/7 unless closures are reported by the Forest Service. The visitor's center is open from 7:30AM-4PM on week days, but is closed on weekends and holidays.
Price:
$3 per vehicle for day use within the Sipsey Wilderness
It is recommended to contact the visitor center to be sure the area within the Bankhead National Forest that you are visiting does not require a recreational permit or pass. 
Campground prices vary depending on the campground and site.
Activities: 
Be sure to check out some of our favorite trails: the Owl Creek Non-Motorized Trail, Caney Creek Falls Trail, Sipsey Loop Trail, Kinlock Falls Trail, Sipsey River Trail, and the Flint Creek White Loop Trail!
You can download the Bankhead National Forest Recreation Map and additional maps of the area from the USDA!
Hiking in the Sipsey Wilderness by Michael Hicks, Flickr
Where To Stay:
The Bankhead National Forest is a multi-camping experience forest with opportunities ranging from primitive, dispersed camping found throughout the forest to full RV hook- up sites. Typically, campgrounds are open from March until November, but it is a good idea to call and confirm. 
 For more information about the Bankhead National Forest, visit The U.S. National Forest Campground Guide, USDA, or RootsRated!
---