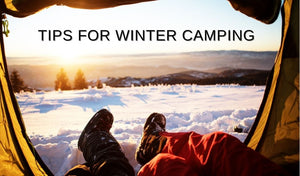 Tips for Winter Camping
Winter Camping
Camping is most commonly thought of as a spring and summer activity, however, camping in winter is an incredible experience! It is a great way to savor those tranquil moments and settings only winter can provide, such as untouched snow-covered landscapes, early nights and early mornings, and of course a warm, cozy fire. Winter camping does require a little more planning and smart packing, though. To help you fully enjoy your next winter camping trip, follow these tips!
1. Pack Appropriate Clothing
Bring enough warm clothing to last you the length of your trip. Do not wear cotton. It dries too slowly, which will cause a problem if it rains or snows. Instead, bring thermal shirts and pants.
Pack plenty of hats, gloves, and socks that are made from wool or synthetic materials since these items are the most likely to get wet.
Check the weather and decide if you need a fleece outer layer, a waterproof windbreaker, and/or a water resistant down or puffer jacket. 
Bring a pair of sturdy, water proof boots. Ideally, ones that go over your ankles and offer plenty of support for hiking.
2. Choose the Right Camping Gear
Bringing a 4-season dome tent is very important since it will provide adequate protection against rain, wind, and snow.
Pack your GO-KOT! Staying off of the cold, wet ground will help keep you warm at night.
Check the predicted temperature range and choose which sleeping bag will best fit your needs and the temperature range.
A waterproof backpack is also a good idea to bring in case you plan on hiking and being away from the campsite during the day.
The fall and winter months have less hours of sunlight, so remember to pack a flashlight or portable lantern, along with extra batteries.
If snow is expected during your trip, bring a a snow shovel and a 

sled to help move your supplies.

Bring plenty of food and water, ideally an extra day's worth. Also, bring something that can filter water just in case you need it. We recommend the

 

GRAYL Ultralight Water Purifier Bottle.

Bring matches, a lighter, or another fire starter.

Pack a portable stove, cooking fuel, cooking pans, utensils, plates, bowls, and mugs.
3. Pack Additional Supplies
No matter what season you are camping in, always pack a first-aid kit.

Depending on where you are camping, your phone's navigation system may or may not work. So, it is a good idea to bring a map and a compass.

If you are backcountry camping or staying at a campsite without restroom facilities, bring along toilet paper and/or a portable toilet. 

If you are bringing your pup along for the adventure, click here to learn what supplies they may need.

If you are a coffee or tea drinker, bring all the supplies required to make it!
4. Choose Your Campsite Wisely
A lot of strategic work goes into finding the right winter campsite:
Choose a stop with shelter from the elements.

Avoid the bottom of hills, where cold-air troughs form, and the tops of hills, which can be exposed to wind.

Choose a flat site, and compress the snow where you plan to pitch your tent by walking around on it because packed snow insulates heat better than loose snow.

Make sure the tent is well staked down, and pitch it with the door perpendicular to prevailing winds
5. Enjoy!
The best part about winter camping is that it allows you to enjoy numerous winter activities you might not experience other wise. Make the most of it and go cross country skiing, snowshoeing, winter hiking, ice climbing, ice fishing, sledding, etc. The opportunities are endless!
For more information, visit Survival Life or The Sierra Club!
---